Human dignity is a central tenet of our faith, based on the biblical teaching of Man as Imago Dei (image of God) and as a being for whose salvation Christ has laid out His life. Furthermore, "loving our neighbor as oneself" is the second highest commandment in the Law, right after "loving God above all things".
Therefore, hunan dignity should be upheld in every situation, not just when it is being threatened in some bioethical contexts, but also by economic systems. The Pope invites us to build an economy built on the foundation of human dignity rather than on profit or ideology.
https://youtu.be/viwmJ8IKZgU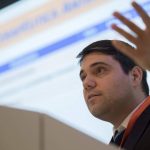 Pedro Gabriel, MD, is a Catholic layman and physician, born and residing in Portugal. He is a medical oncologist, currently employed in a Portuguese public hospital. A published writer of Catholic novels with a Tolkienite flavor, he is also a parish reader and a former catechist. He seeks to better understand the relationship of God and Man by putting the lens on the frailty of the human condition, be it physical and spiritual. He also wishes to provide a fresh perspective of current Church and World affairs from the point of view of a small western European country, highly secularized but also highly Catholic by tradition.